4D Sound Diagnostics LLC
In Corpus Christi TX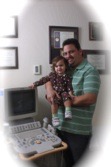 Chief Sonographer: Mike Rodriguez Sr. RT(R), RDMS (AB,OB), RVT
First registered by the ARDMS in 1994. Mike scanned in and around New Orleans area from when he was registered until relocating back to Corpus Christi in 2011 He has had extensive training and practice in the fields of Ultrasound.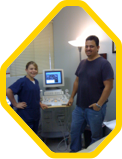 Many people ask about the letters behind the name. Sr. of course is because Mike has a son with the same name. Mike made a web page dedicated to his oldest child and his child's disease Retinoblastoma. 
The next set of initials RT(R) stand for Registered Technologist (Radiology) This means that Mike is registered and licensed to take x-rays. Then there is RDMS (AB,OB) which stands for Registered Diagnostic Medical Sonographer (Abdomen, Obstetrics). These are the letters that say Mike has passed his examining tests and is qualified to perform ultrasounds on the Abdomen and babies as well as non-pregnant female organs.
The last set of initials are RVT which stands for Registered Vascular Technologist. This distinction means that Mike has taken and passed the test that says he is competent to perform Vascular ultrasound exams which include the arteries in the neck (Carotid) as well as Arteries and Veins in the arms and legs. Additionally there are still other exams performed on the arteries in the brain.
Chief X-ray technologist: Melissa Rodriguez RT(R)
Melissa graduated from Delgado Community College in 2004. She performed her clinical training at The Medical Center of Louisiana at New Orleans (Charity Hospital). Melissa is presently studying ultrasounds and handles the main business aspects.
Another common question people ask is "what are you called?" We are Ultrasound Technologists or "Techs" for short. You can also say we are Ultrasonographers or Sonographers for short. You could even say Echo Tech even though this is an older term, people still use it especially for Cardiac Sonographers.
Technologists favorite sites on the Internet:
Society of Diagnostic Medical Sonographers (SDMS): This is governing and testing body for Ultrasound.
(361) 589-9711

info@sdno.com